Hi!

I'm Miss Wendy, one of the Performers here at Happily Ever Laughter.  I want to tell you a little story.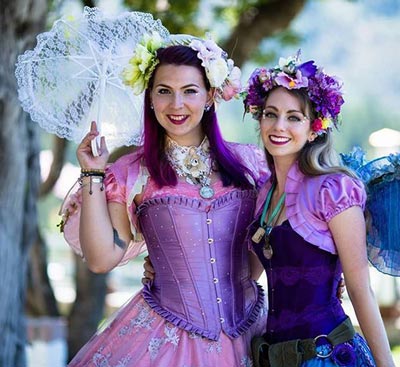 Me (left) and Miss Nimbus, one of my coworkers (and my bestest best friend in the whole wide world)
Most of my days I am the head costume designer for our Fairytale Performers, but when you're a Professional Faerie for a living, not all days go according to plan.  This day was one of them, and this is exactly why I love what I do so much.
I'll start with the phone call I got from Fae Diddle Diddle, my boss lady.  This is Fae: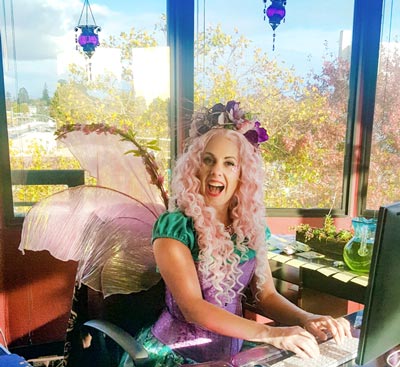 Fae lookin' all 'business whimsical' at our headquarters.
Boss – "What are you doing on Friday morning?"

Me – "Costume stuff. You, know, the usual. What's up, do you need help with something?"


Boss – "Yeah…So I just want to get some footage of the house where the Tooth Fairy lives to use as each Tooth Fairy video intro scene…except the house I want to use is a really heavy, two story victorian house that was handmade by Miss Meadow's grandma.
Oh, and my 4 year old daughter is freaking out that we will get dirt on it if we take it outside.
You can help me with that, yeah?"


Me – "Duh. I'll be there at 10:30."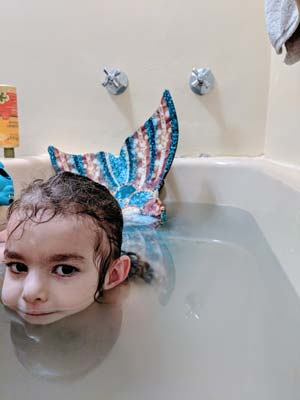 Hazel, Fae's daughter. Obviously, a mermaid in training.

I show up and we wander about her property, discussing perfectly normal film shoot things.
'How are my sight lines?'
'How is this lighting?'
'Does this angle make my house look too big?'
We're aiming for a location that looks like:
1: A pretty spot for a fairy house.
2: A spot that really emphasizes the size difference between the tiny house and the rest of the world.
And then, we found it.
Except, it was in a HUGE tree…over a RAVINE…surrounded by BARBED WIRE.
So. Naturally, we went to get the house and put it in that tree. *laugh* Because we're Faeries. And that's how we roll.
Turns out, getting a dollhouse into a tree is just like pushing a couch up stairs. Complete with the 'I think this is going to kill me' feeling.
But eventually, the house was IN THE TREE!  And, we could tell Fae's daughter that we didn't put it on the ground!

But we didn't stop there. Nope.
Now we wanted to get that front door to open all by itself…without seeing me on the other side.  So, took off the necklace I was wearing and attached it to the front door.  I held onto the other end while the rest of me teetered off the back of the tree house platform as far as I could without plummeting into the ravine.
WE SCREAMED SO LOUDLY THAT WE SCARED ALL THE BIRDS OUT OF THE TREE THE FIRST TIME THAT DOOR OPENED!


And then…we had to take the house OUT of the tree.
But I'll tell you that story another day.
Tea and tulips,
Miss Wendy Lady
Me at the Happily Ever Laughter headquarters. You know. Working. 🙂

Blow your child's mind and win parent of the year.